Introduction
The Book of Moses records experiences from the life of Moses that are not found in the book of Genesis. This should be the first chapter of the Bible.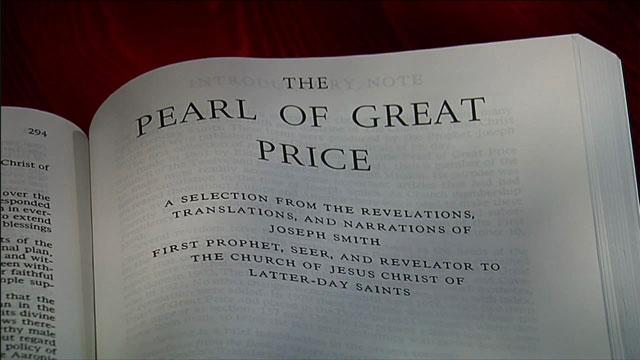 The vision recorded in Moses 1 took place after Jehovah spoke to Moses at the burning bush but before Moses led the children of Israel out of Egypt and through the Red Sea (see Moses 1:17, 25–26).)
Rodney Turner – We cannot read this chapter in the spirit with which it was written and not know that it is pure revelation from on high.
1. God teaches that Moses is a son of God.
How does God describe Moses? How do you think that made Moses feel? Because all men and women are spirit children of our Heavenly Father we are capable of becoming like him.
Moses 1:6 Moses, my son
'Did you know that Heavenly Father knows you personally—by name? The scriptures teach us that this is true. When Enos went into the woods to pray, he recorded, "There came a voice unto me, saying: Enos, thy sins are forgiven thee, and thou shalt be blessed."  Enos 1:5 Moses not only prayed but also talked to God face-to-face, and God said to Moses, "I have a work for thee, Moses, my son."  Moses 1:6. The Lord knew Jacob's name and changed it to Israel to more accurately reflect his mission on the earth. [See Bible Dictionary, "Israel," 708. Similarly, He changed the names of Paul and Abraham and Sarah. In Doctrine and Covenants, section 25, Emma Smith is given a blessing for her comfort and guidance in life. The Lord begins this blessing by saying, "Hearken unto the voice of the Lord your God, while I speak unto you, Emma Smith, my daughter."  D&C 25:1 
You may not have heard the Lord call you by name, but He knows each one of you and He knows your name. Elder Neal A. Maxwell said: "I testify to you that God has known you individually … for a long, long time (see  D&C 93:23) He has loved you for a long, long time. He not only knows the names of all the stars (see  Ps. 147:4  Isa. 40:26) He knows your names and all your heartaches and your joys!" ["Remember How Merciful the Lord Hath Been," Liahona and Ensign, May 2004, 46.]'(Elaine S dalton, General Conference, April 2005)
"I want to tell you, each and every one of you, that you are well acquainted with God our heavenly Father, or the great Eloheim. You are all well acquainted with Him, for there is not a soul of you but what has lived in His house and dwelt with Him year after year; and yet you are seeking to become acquainted with Him, when the fact is, you have merely forgotten what you did know ….
"There is not a person here to-day but what is a son or daughter of that Being. In the spirit world their spirits were first begotten and brought forth, and they lived there with their parents for ages before they came here. This, perhaps, is hard for many to believe, but it is the greatest nonsense in the world not to believe it. If you do not believe it, cease to call Him Father; and when you pray, pray to some other character." (Brigham Young, in Journal of Discourses, 4:216.)
Moses 1:10 man is nothing
Elder Neal A. Maxwell wrote that Moses' statement "surely was not a reflection on man, 'God's greatest miracle,' but a placing of man in the vast perspective of God's creations and a realizing, even so, that we are God's exclusive work and his greatest glory" (Notwithstanding My Weakness [1981], 75).
2. Satan confronts Moses; Moses casts him out.
Read: Cast Not Away Therefore Your Confidence – Jeffrey R Holland, BYU Devotional March 1999
Moses 1:12-13 Moses, son of man, worship me
Satan came tempting – because of Moses' weakened condition Satan chose this moment to reveal himself in an effort to turn Moses from the path that the Lord had set him on.
"Moses seemed bothered when Satan addressed him as a 'son of man.' He retorted, 'I am a son of God, in the similitude of his Only Begotten.' (Moses 1:12-13.) Knowing that he was created in the image of God strengthened Moses to overcome Lucifer's temptations. Sons of men are sons of the world, and they give heed to worldly things. Not realizing their divine heritage, they give up their birthright to worship the images of the world. Sons of God, however, know that they are heirs to a celestial future and can thus envision heavenly riches. This vision helps them to worship only God and to follow his path." (Dennis Largey, "Refusing to Worship Today's Graven Images," Ensign, Feb. 1994, 13)
What did Satan call Moses?
What did God call him?
What difference does it make whether you think of yourself as a son or daughter of God rather than a son or daughter of men?
Moses 1 :16 Get thee hence, Satan
'Knowing who we really are prepares us to use that knowledge to face temptations, to resist them, and then to act righteously. Moses, knowing he was a son of God, as revealed to him, told Satan, "Get thee hence, Satan; deceive me not; for God said unto me: Thou art after the similitude of mine Only Begotten" ( Moses 1:16) The result did not wait, as the Lord called him, saying, "Blessed art thou, Moses, for I, the Almighty, have chosen thee, and thou shalt be made stronger than many waters; for they shall obey thy command as if thou wert God"  (Moses 1:25) The spiritual security becomes evident as the Lord added, "I am with thee, even unto the end of thy days" (Moses 1:26)' (Charles Didier, General Conference, April 1987) 
"This arch enemy of God and man, called the devil, the 'Son of the Morning,' who dwells here on the earth, is a personage of great power; he has great influence and knowledge. He understands that if this kingdom, which he rebelled against in heaven, prevails on the earth, there will be no dominion here for him. He has great influence over the children of men; he labors continually to destroy them. He labored to destroy them in heaven; he labored to destroy the works of God in heaven, and he had to be cast out. He is here, mighty among the children of men. There is a vast number of fallen spirits, cast out with him, here on the earth. They do not die and disappear; they have not bodies only as they enter the tabernacles of men. They have not organized bodies, and are not to be seen with the sight of the eye. But there are many evil spirits amongst us, and they labor to overthrow the Church and kingdom of God. There never was a prophet in any age of the world but what the devil was continually at his elbow." (Wilford Woodruff, in Journal of Discourses, 13:163.)
Moses 1:18-21 Depart hence Satan
'Moses recognized the deception and saw the power of darkness and the "bitterness of hell"  (Moses 1:20) Here was a force not easily reckoned with nor evicted. Terrified, he called upon God, then commanded with new power: "I will not cease to call upon God . . . for his glory has been upon me, wherefore I can judge between him and thee" ( Moses 1:18)
". . . In the name of the Only Begotten, depart hence, Satan"  (Moses 1:21)
Not even Lucifer, the Star of the Morning (Isa. 14:12) the arch-enemy of mankind can withstand the power of the priesthood of God. Trembling, quaking, cursing, weeping, wailing, gnashing his teeth, he departed from the victorious Moses.' (Spencer W Kimball, General Conference, April 1964)
Elder Neal L Anderson: The choice between good and evil is at the very heart of our experience on earth. In the final review of our lives, it will not really matter if we were rich or poor, if we were athletic or not, if we had friends or were often forgotten. We can work, study, laugh and have fun, dance, sing, and enjoy many different experiences. These are a wonderful part of life, but they are not central to why we are here. The opportunity to choose good over evil is precisely why we are here.
3. God appears again and teaches of his work and glory.
Moses 1:24 The Holy Ghost
President Joseph Fielding Smith said: "The fact is all the prophets had the Holy Ghost. They were led and directed by him. And without this power they would not have been prophets. Peter said that prophecy itself 'came not in old time by the will of man: but holy men of God spake as they were moved by the Holy Ghost' [2 Peter 1:21]. The Book of Moses, which is the original and perfect record of a part of Genesis, speaks of the Holy Ghost; so do the Nephite prophets, including those who lived in the era before Christ" (Doctrines of Salvation,1:46–47).
Moses 1:35 There are many worlds
President Brigham Young said: "How many earths are there? I observed this morning that you may take the particles of matter composing this earth, and if they could be enumerated they would only be a beginning to the number of the creations of God; and they are continually coming into existence, and undergoing changes and passing through the same experience that we are passing through" (in Journal of Discourses, 14:71).
Bruce R. McConkie: "When the prophets speak of an infinite atonement, they mean just that. Its effects cover all men, the earth itself and all forms of life thereon, and reach out into the endless expanses of eternity….Now our Lord's jurisdiction and power extend far beyond the limits of this one small earth on which we de\well. He is under the Father, the creator of worlds without number (Moses 1:33). And through the power of his atonement the inhabitants of these worlds, the revelation says, 'are begotten sons and daughters unto God' (DC 76:24), which means that the atonement of Christ, being literally and truly infinite, applies to an infinite number of earths." (Mormon Doctrine)
President Joseph Fielding Smith:  "Not only was this earth planned as an architect plans his building but its entire destiny and the destiny of its inhabitants was considered and known to the great Architect, before its foundation stones were laid. Our Eternal Father was not experimenting when this world came into existence. It did not come by chance. It is not the first of his creations. Millions upon millions of worlds such as this had rolled into existence before our earth was born. Every step taken was according to the divine plan, and that plan was an eternal one, which had been followed in the construction of other worlds without number unto man. In other worlds the plan of salvation had been given. Here we are enacting familiar scenes; scenes which are new to all mortal men, but which are well known to the Father and also to the Son." (The Way to Perfection, pp35-36)
Moses 1:39 My work and my glory
'We are all in this great endeavor together. We are here to assist our Father in His work and His glory, "to bring to pass the immortality and eternal life of man" (Moses 1:39). Your obligation is as serious in your sphere of responsibility as is my obligation in my sphere. No calling in this church is small or of little consequence. All of us in the pursuit of our duty touch the lives of others. To each of us in our respective responsibilities the Lord has said: "Wherefore, be faithful; stand in the office which I have appointed unto you; succor the weak, lift up the hands which hang down, and strengthen the feeble knees" (D&C 81:5).' (Gordon B Hinckley, "This Is the Work of the Master," Ensign, May 1995, 71)
Boyd K Packer: Every law and principle and power, every belief, every ordinance and ordination, every covenant, every sermon and every sacrament, every counsel and correction, the sealings, the calls, the releases, the service—all these have as their ultimate purpose the perfection of the individual and the family, for the Lord has said, "This is my work and my glory—to bring to pass the immortality and eternal life of man."