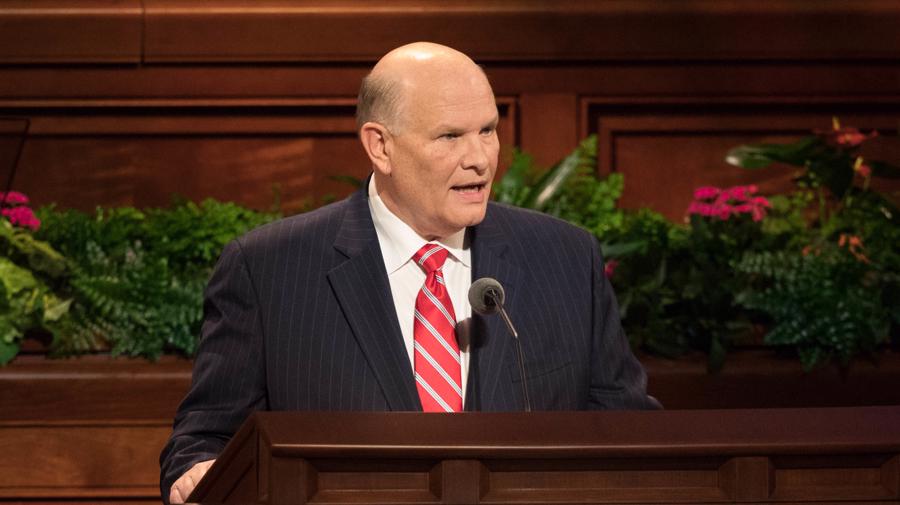 What principle is Elder Renlund trying to teach us by referring to the story of Mary Poppins?
Brothers and sisters, like Jane and Michael Banks, we are "good kids" who are worth bothering about. Our Heavenly Father wants to help and bless us, but we do not always let Him. Sometimes, we even act as if we already know everything. And we too need to do "the next bit" on our own. That is why we came to earth from a premortal, heavenly home. Our "bit" involves making choices.
In what ways do we sometimes not let our Heavenly Father bless us?
The prophet Lehi said: "Wherefore, the Lord God gave unto man that he should act for himself. Wherefore, man could not act for himself save it should be that he was enticed by the one or the other." At a fundamental level, one option is represented by Jesus Christ, the Firstborn of the Father. The other option is represented by Satan, Lucifer, who wants to destroy agency and usurp power.
What were the differing motivations of Jesus and Lucifer?
What would have been the results had Lucifer's option been taken up?
President Kimball conjectured: 'The very first thing before beginning our world here, the Lord said, 'I'm going to give you your free agency. I want men and women that are strong because it is right to be strong. I don't want weaklings who are righteous only because they have to be righteous.'
Look through the talk for answers to the question: How do Heavenly Father and Jesus Christ help us to choose obedience?
Possible answers:
To ensure that we would exercise faith and learn to use our agency properly, a veil of forgetfulness was drawn over our minds so we would not remember God's plan.
The prophet Lehi said: "Wherefore, the Lord God gave unto man that he should act for himself. Wherefore, man could not act for himself save it should be that he was enticed by the one or the other."
Heavenly Father undoubtedly cheers for and applauds our successes.
Christ is the helper and consoler. His ways bring joy and hope—eventually and always.
God's plan includes directions for us, referred to in the scriptures as commandments.
No matter how long we have been off the path or how far away we have wandered, the moment we decide to change, God helps us return.
Joseph Smith said: "All persons are entitled to their agency, for God has so ordained it. He has constituted mankind moral agents, and given them power to choose good or evil; to seek after that which is good, by pursuing the pathway of holiness in this life, which brings peace of mind, and joy in the Holy Ghost here, and a fulness of joy and happiness at His right hand hereafter; or to pursue an evil course, going on in sin and rebellion against God, thereby bringing condemnation to their souls in this world, and an eternal loss in the world to come." The Prophet also noted: "Satan cannot seduce us by his enticements unless we in our hearts consent and yield. Our organization is such that we can resist the devil; if we were not organized so, we would not be free agents" (Teachings: Joseph Smith, 213).]
In Jesus Christ, "we have an advocate with the Father."
What is an advocate? Why do we need one?
An advocate is one who presents a case on someone else's behalf. It is the advocate's role to present our case in its most favourable light, challenging the claims of the prosecution who presents our case in its worst possible light. Why do we need an advocate? Because we are guilty!  'For all have sinned and come short of the glory of God' (Romans 3:23). With such an open and shut case we need a great advocate to get us off.
Elder Tad Callister in his book  The Infinite Atonement  ( a must-read book) says: "The Savior pleads our case for mercy. He is our advocate. He is the champion of our cause as no other can be. We have seen advocates of law before earthly tribunals-mere mortals who have argued their cases with spellbinding suspense, whose logic was flawless, mastery of the laws disarming, and powerful petitions compelling. Before such mortals, juries have sat in awe, almost with breathless wonder, moved and swayed by every glance, every crafted word, every passionate plea. Yet such advocates, almost Herculean heroes to their patrons, are no match to Him who pleads our case on high. He is the perfect proponent 'to appear in the presence of God for us' (Hebrews 9:24). How fortunate we are that he is our 'advocate with the Father' (1 John 2:1)." (Tad R. Callister, The Infinite Atonement, 317-318)
We can trust that we are beloved children of Heavenly Parents and worth "bothering about" and be assured that "on our own" will never mean "alone."
What do the examples of Heavenly Father and Jesus Christ example suggest about how we can improve our efforts in our families and our ministering?
(NB: Text in italics is taken from Elder Renlund's address)