….Prophetic calls to action, coupled with our innate sense that we can do and be more, sometimes create within us what Elder Neal A. Maxwell called "divine discontent." Divine discontent comes when we compare "what we are [to] what we have the power to become." Each of us, if we are honest, feels a gap between where and who we are, and where and who we want to become. We yearn for greater personal capacity. We have these feelings because we are daughters and sons of God, born with the Light of Christ yet living in a fallen world. These feelings are God given and create an urgency to act.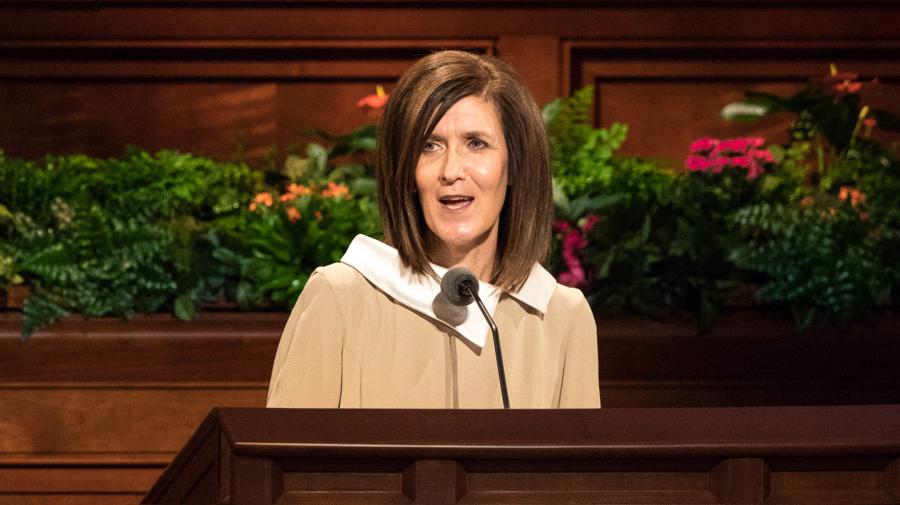 Sister Craig speaks of "a gap between where and who we are, and where and who we want to become."
How does God want us to feel about this gap?
How does Satan want us to feel about it?
Act in Faith
One way to tell divine discontent from Satan's counterfeit is that divine discontent will lead us to faithful action. Divine discontent is not an invitation to stay in our comfort zone, nor will it lead us to despair. I have learned that when I wallow in thoughts of everything I am not, I do not progress and I find it much more difficult to feel and follow the Spirit.
Faith comes from hearing the word of God and is a spiritual gift. It increases when we not only hear, but act on the word of God as well. Faith is like a muscle. If exercised, it grows strong. If it is not used, it becomes weak and flabby.
Have you had an experience when divine discontent has led you to faithful action?
How can we use divine discontent to move ourselves out of our comfort zones?
Follow Promptings to Do Good
The world often uses a feeling of discontent as an excuse for self-absorption, for turning our thoughts inward and backward and dwelling individually on who I am, who I am not, and what I want. Divine discontent motivates us to follow the example of the Savior, "who went about doing good." As we walk the path of discipleship, we will receive spiritual nudges to reach out to others.
See Service – the Best Medicine in January 2019 Ensign
How does serving others help us to face our own challenges?
Divine discontent leads us to Christ
Divine discontent leads to humility, not to self-pity or the discouragement that comes from making comparisons in which we always come up short. Covenant-keeping women come in all sizes and shapes; their families, their life experiences, and their circumstances vary.
What can we do to ensure that our "divine discontent" does not become "paralyzing discouragement"?
How can divine discontent lead us to Christ?
Because of our Savior's atoning sacrifice, we can be made equal to the tasks that lie ahead. The prophets have taught that as we climb the path of discipleship, we can be sanctified through the grace of Christ. Divine discontent can move us to act in faith, follow the Savior's invitations to do good, and give our lives humbly to Him.
'As you study Christ's life and teachings in a myriad of ways, your faith in Him will increase. You will come to know that He loves you individually and understands you perfectly. In His 33 years of mortality, He suffered rejection; persecution; bodily hunger, thirst, and fatigue; loneliness; verbal and physical abuse; and finally, an excruciating death at the hands of sinful men. In the Garden of Gethsemane and on the cross of Calvary, He felt all of our pains, afflictions, temptations, sicknesses, and infirmities.' (Jean B Bingham, General Conference, October 2017)
What changes will you make as a result of what you have learned from Sister Craig's address?
'God knows us perfectly. He loves us perfectly. His only begotten son, Jesus, has invited us to "come, follow me." In a real and majestic sense, each of us has been called to serve in His holy discipleship. May we all renew our desires and efforts to do so.' Elder Neal A Maxwell, Becoming a Disciple, Ensign June 1996)
(Passages in italics are excerpts from Sister Craig's talk)