1. Jonathan and David make a covenant of friendship. Saul becomes jealous of David and tries to kill him.
1 Samuel 18:1-4 The soul of Jonathan was knit with the soul of David
'Here we have the beginning of the famous covenant of loving brotherhood and friendship between David and Jonathan, who would ordinarily have been rivals. we are reminded of Joseph Smith's statement that friendship is a grand fundamental principle of Mormonism, designed to revolutionise and civilise the world. cause wars and contentions to cease, and allow men to become friends and brothers. Even when David's anointing to become later was made known, no rivalry resulted, though Jonathan was next in line for the throne through his father, Saul. It appears that Jonathan was already making a gesture of transferring any claim he had upon kingship over to David by giving him certain garments and accoutrements (v4; compare 23:17). The motto of noth Jonathan and David seems to have been 'service, not status'. This chapter provides a strong contrast between father and son. Saul and Jonathan.' (Andrew C Skinner and D Kelly Ogden, Verse by Verse – the Old Testament)
1 Samuel 18:6-9 And Saul was very wroth
'Saul became an enemy to David through pride. He was jealous because the crowds of Israelite women were singing that "Saul hath slain his thousands, and David his ten thousands." (1 Sam. 18:6–8.)
The proud stand more in fear of men's judgment than of God's judgment. (See D&C 3:6–7; D&C 30:1–2; D&C 60:2.) "What will men think of me?" weighs heavier than "What will God think of me?" ' "Ezra Taft Benson, Beware of Pride," Ensign, May 1989, 5)
2. Saul fails in three more attempts to take David's life.
'Once again weaknesses in Saul's character began to manifest themselves. He was jealous of David's newly won popularity (see vv. 6–8, 16). Verse 10 in the Joseph Smith Translation again makes it clear that the evil spirit Saul possessed was not from God.
Saul tried two ways to do away with David (see vv. 10–11; 21–25). But although Saul was jealous of David's growing popularity with the people, there was no indication yet that he knew that David had been anointed to be his successor.
Although the people of Israel celebrated the prowess of David in warfare, the Lord later indicated that because of his great wars, David was not allowed to build the temple. The privilege was given to his son, Solomon (see 1 Chronicles 22:8).' (Institute Old Testament Manual)
3. David and Jonathan renew their covenant of friendship, and Jonathan saves David's life.
'David needed to know Saul's disposition toward him before he could safely remain at court as Saul had ordered (see 1 Samuel 16:22; 18:2). A sacrifice and a feast at every new moon (see v. 5; Numbers 10:10; 28:11) afforded Jonathan a perfect opportunity to inquire into the matter. Jonathan's brotherly love for David remained firm, even in the face of his father's wrath.' (Institute Old Testament Manual)
4. Saul is consumed by hatred for David. David spares Saul's life.
'David was close to the Lord and used divine guidance in all major decisions and actions. One example is his decision to help the village of Keilah, a town in the territory of Judah, and later his decision to flee from there lest he be given over into Saul's hands.
How and when it was made known to Saul and Jonathan that David would be the next king has not been told, but here it is seen that it was indeed known. The gallantry of Jonathan is impressive. As verses 16-18 make clear, Jonathan not only put David's interests before his own, just as he put the Lord's interests first, but strengthened his friend by helping him to find strength in the Lord.' (Andrew C Skinner and D Kelly Ogden, Verse by verse – The Old Testament).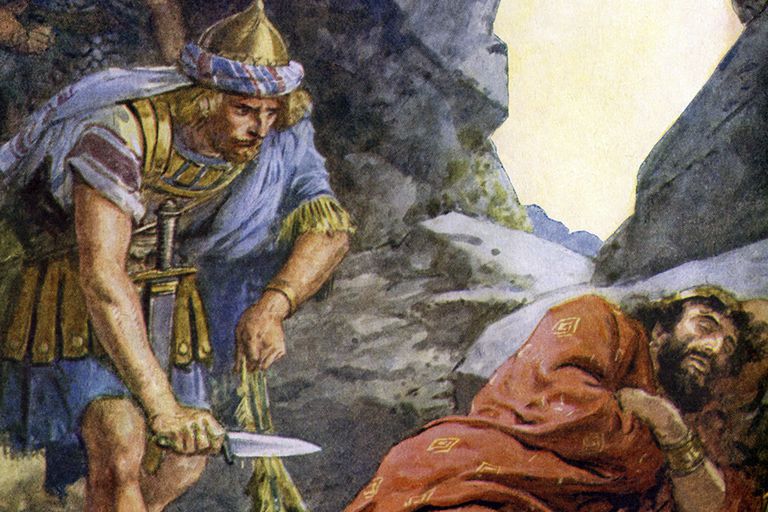 1 Samuel 24
'The famous episode of David's refusal to slay Saul at En-Gedi shows his integrity and ethical principles in resisting that opportunity and in resisting also the encouragement of his men to slay the king. Saul's repentance upon learning of David's respect for 'the anointed of the Lord' was probably sincere, even though it did not last.' (Andrew C Skinner and D Kelly Ogden, Verse by verse – The Old Testament).