From http://www.lds.org
One way to start a discussion about Sister Oscarson's message is to give everyone a piece of paper with "Who needs me today?" written at the top. Members of your Relief Society or quorum could take a few minutes pondering and listing answers to this question. Then they could search Sister Oscarson's message for ideas about how they could serve the people on their list—or add names as inspired. A few could share what they have learned.
We live in a culture where more and more we are focused on the small, little screen in our hands than we are on the people around us. We have substituted texting and tweeting for actually looking someone in the eye and smiling or, even rarer, having a face-to-face conversation. We are often more concerned with how many followers and likes we have than with putting an arm around a friend and showing love, concern, and tangible interest. As amazing as modern technology can be for spreading the message of the gospel of Jesus Christ and helping us stay connected to family and friends, if we are not vigilant in how we use our personal devices, we too can begin to turn inward and forget that the essence of living the gospel is service.
'In today's world of so much suffering because of different circumstances, sending a text message with a funny emoji or posting a nice picture with the words "I love you" is good and valuable. But what many of us need to do is leave our mobile devices behind and, with our hands and feet, help others in great need. Love without service is like faith without works; it's dead indeed.' (Jose L Alonso, General Conference, October 2017)
I love email and social media. They can be great ways of communicating and connecting with others. However our use of technology can also insulate us from others.  Do you see evidence that use of personal devices can turn our focus inward and make us forget the essence of the gospel? How can we guard against that?
 I believe that most members consider service to be at the heart of their covenants and discipleship. But I also think that sometimes it's easy to miss some of the greatest opportunities to serve others because we are distracted or because we are looking for ambitious ways to change the world and we don't see that some of the most significant needs we can meet are within our own families, among our friends, in our wards, and in our communities. We are touched when we see the suffering and great needs of those halfway around the world, but we may fail to see there is a person who needs our friendship sitting right next to us in class.
This reminded me of words from the hymn 'Have I Done Any Good':
There are chances for work all around just now,
Opportunities right in our way.
Do not let them pass by, saying, "Sometime I'll try,"
But go and do something today.
There are opportunities to serve all around us – in our community, in our ward, in our family. We don't need to go to the other side of the world to find people who need our help.
What good does it do to save the world if we neglect the needs of those closest to us and those whom we love the most? How much value is there in fixing the world if the people around us are falling apart and we don't notice? Heavenly Father may have placed those who need us closest to us, knowing that we are best suited to meet their needs.
There are opportunities to serve all around us – in our community, in our ward, in our family.
"If you want to bring happiness to the whole world, go home and love your family." (Mother Teresa)
'There are so many who have been injured and who need a good Samaritan to bind up their wounds and help them on their way. A small kindness can bring a great blessing to someone in distress and a sweet feeling to the one who befriends him.
There are so many out there whose burdens you can lift. There are the homeless, there are the hungry, there are the destitute all around us. There are the aged who are alone in rest homes. There are handicapped children, and youth on drugs, and the sick and the homebound who cry out for a kind word. If you do not do it, who will?' (Teachings of Gordon B Hinckley, Chapter 14)
Pray for help in recognizing those in your ward families who need love and encouragement. Instead of attending church with the question of "What am I going to get out of this meeting?" ask, "Who needs me today? What do I have to contribute?"
Have a look around you. Who has God placed in your sphere of influence that needs your love and care?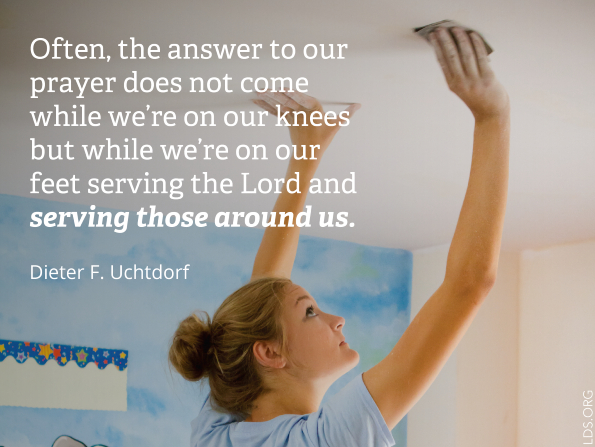 As you bless your own families and ward members, look for ways to bless those in your local communities. Whether you have time for extensive service or can give only a few hours a month, your efforts will bless lives and will also bless you in ways you cannot begin to imagine.